The SIP-T46S IP Phone is the ultimate communications tool for busy executives and professionals. In addition to offering better overall performance than the T46G, this device has a faster interface with a rich, high-resolution TFT color display.
Built with Yealink Optima HD technology and wideband codec of Opus, this device enables crystal clear communications.
The SIP-T46S is also built with Gigabit Ethernet technology, for rapid call handling and use with accessories like a Bluetooth USB Dongle and a Wi-Fi USB Dongle. The new T4S series offers the same elegant appearance of the T4 line, but with improvements for greater interoperability and collaboration.
W56p business HD IP DECT phone narrowband codec: g.711µ/A, g.723, G.726, G.729, Ilbcup to 4 simultaneous voice calls up to 5 DECT cordless handsets up to 5 multiple lines/sip accounts2.4″ 240 X 320-pixel color screen with an intuitive user interface up to 30 hours talk time and up to 400 hours standby time quick charging: 10 minutes of charging for 2 hours talk time supports USB charging headset connection via 3.5Mm jack charger is wall-mountable new and improved belt clip range: up to 50m indoors and 300m outdoors call hold3-way conferencing caller id, call waiting for voice mail local phonebook for up to 500 entries full-duplex speakerphone wideband audio increase range with up to 6 repeaters broad, soft compatible power over Ethernet (IEEE 802.3Af)includes one base station, one handset, one belt clip, two rechargeable batteries, one charger cradle, two power adapters, 1 Ethernet cable, and quick start guide.
The Yealink W60P Wireless DECT IP Phone is a premium phone designed with robust hardware, ideal for businesses that require greater capability to handle a heavy call load.
The Yealink W60B is a powerful scalable DECT Base that supports up to 8 handsets, 8 SIP accounts and 8 concurrent calls. Equipped with robust hardware and rich features, it perfectly caters to your busy small-to-medium-sized office.
Compact as it is, the Yealink W60B DECT Base works seamlessly with the entire Yealink DECT handset range and repeater.
It also supports efficient provisioning and mass deployment with the Yealink Redirection and Provisioning Service and Booth Mechanism as to realize zero touch provisioning.
The Yealink W59R, certified to rigorous IP67 standard, is a professional ruggedized DECT handset with integrated Bluetooth and vibration alarm that is eligible for any demanding environment.
Yealink W59R is a well-rounded companion with its certified Ingress Protection rating of 67(IP67) and long-life lithium battery, which can be entirely relied on in complicated and harsh working environments, such as construction sites, factories, and warehouses. Meanwhile, its rigid rubberized surface protects the handset from slipping, scratching, and disinfectant.
Combining high-quality hardware and sophisticated acoustic algorithm, Yealink W73H performs audio delivery with enlarged volume and depressed noise, making every conversation featuring clear and clean voice.
With enhanced performance in signal processing, the new handset also ensures a more stable and consistent experience for mobile communication.
Based on the upgraded computing ability, the WH73 handset is of faster response speed, improved sound quality and battery life, rewarding the users a wireless communication solution with favorableness and sustainability.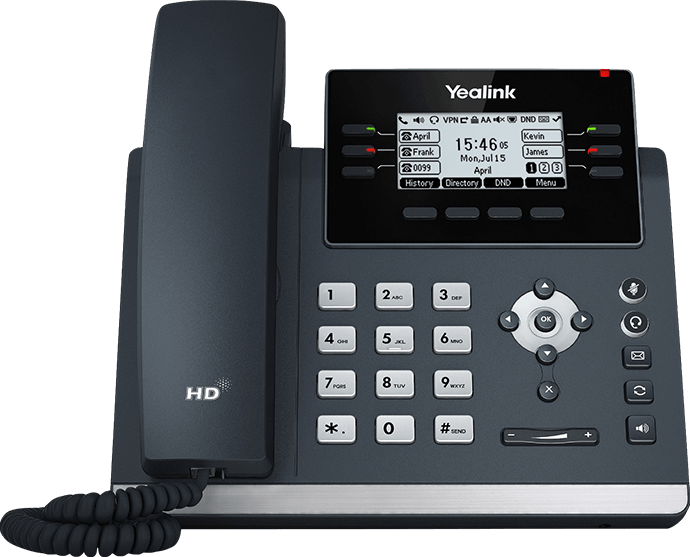 Yealink Optima HD Voice technology combines cutting-edge hardware and software with wideband technology for maximum acoustic performance. 
Yealink T4U series supports effortless mass deployment and Zero Touch Provisioning with Yealink's Redirection and Provisioning Service (RPS) and Boot mechanism, making the device management labor-saving and efficient for the administrators.
Seamlessly compatible with Yealink wireless/wired USB headsets to meet users' needs with large call volumes or headset preferences and ideal for call centers or administrative assistants.
The SIP-T41S is a feature-rich business tool for superior communications and extended functionality. It offers a faster, more responsive interface than the T41P and several performance-enhancing functions. It's a six-line IP phone with built-in programmable keys to enhance productivity. The SIP-T41S with Yealink Optima HD Voice technology and wideband codec of Opus delivers superb audio quality and crystal clear voice communications.
With an all-new USB port, the SIP-T41S boasts unparalleled functionality and expansibility with Bluetooth, Wi-Fi, and USB recording features. Yealink's new T4S series offers the same elegant appearance as the T4 line but with improvements for greater interoperability and collaboration
In an office dominated by wireless DECT phones, the YealinkW41P DECT Desk Phone is one of a kind for executives, managers, and reception desks which requires IP phone experience with extraordinary HD audio, larger display, and larger and multiple function keys.
The W41P sheds the need for physical network connections and additional deployment, the phone is made a great compliment by adding comfort and tidiness to your wireless office with only one power cable.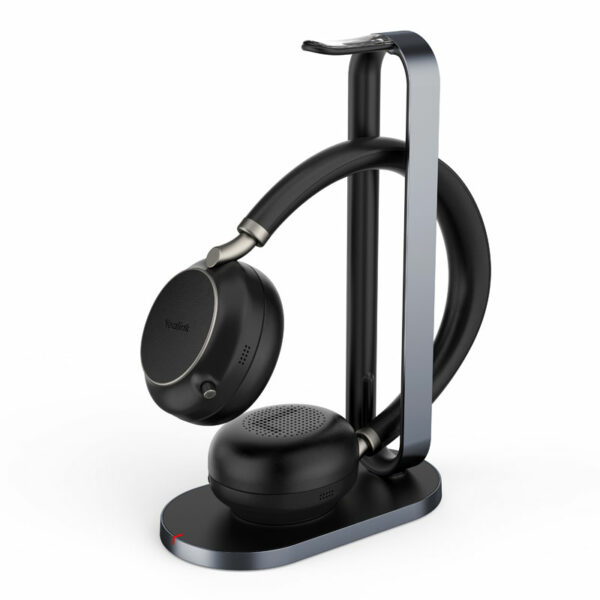 The Ole Wolff diaphragm, an industry-leading professional acoustic component, provides a broader frequency response and higher sensitivity to music, enabling everyone to enjoy the full sound of originalities and fineness.
Intelligent dynamic ANC, including four modes(ANC level medium, ANC level high, Talk transparent, and Fully Transparent), brings customizable noise cancellation adjustment in different environments for a more suitable and comfortable active noise cancellation effect.
Specially tailored noise-cancellation microphones, placed in retractable Magic Boom, together with beamforming, ultimately get your message across even in noisy environments with clear and crisp voice transferred.